Base Metal Exploration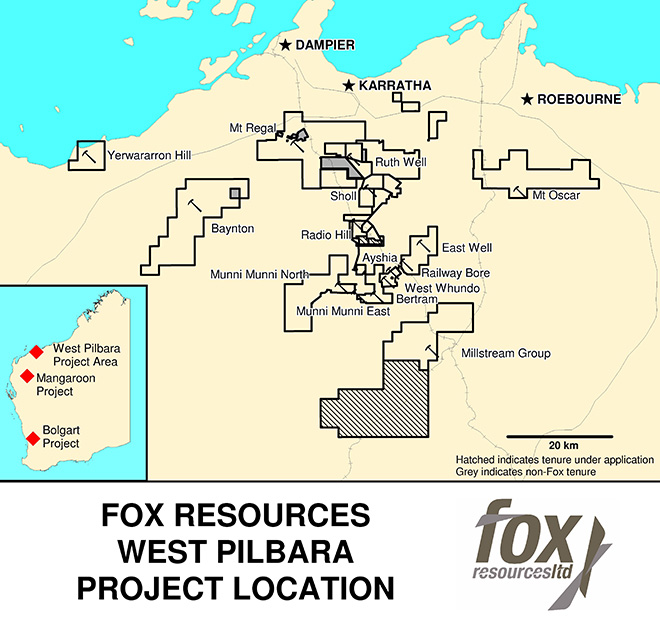 Radio Hill (100%)
The Radio Hill site is located in the West Pilbara region of Western Australia, approximately 35km south of Karratha. The combined indicated and inferred resources at Radio Hill are 4.02 Mt grading 0.51% Ni and 0.89% Cu. The site has a fully developed underground mine that is currently being prepared for a return to production.
In addition to the known deposits included in the Scoping Study to be mined at Radio Hill and Sholl, a PhD student is working with Fox completing a three year research project to gain a more detailed understanding of the Radio Hill deposit. It is anticipated this work will identify geochemical vectors towards mineralisation and ultimately, additional exploration targets to extend the life of mine.
Whundo (100%)
The Whundo copper and zinc project is located 10km south of Radio Hill. Copper was mined from the Whundo deposit intermittently since 1911, with the most recent operations ceasing in 1976. Total production from this deposit was 12,000 tonnes of direct shipping ore grading 27.4% copper. The current combined Cu-Zn resources of the Whundo and West Whundo deposits are 1,687,000t at 1.10% Cu and 0.94% Zn. Whundo has additional zinc resources of 421,000t at 1.05% Zn.
Downhole electromagnetic (DHEM) geophysical surveying has been carried out at the Whundo and Austin project areas (Austin lies beneath and to the north of Whundo). The results corroborated the interpretation that the Austin horizon is a continuous body, and indicated that more conductive mineralisation may be found between existing drillholes. A drilling programme to test the down-plunge extension of the Austin horizon is now being designed.
Ayshia (100%)
The Ayshia deposit occurs along strike to the north-east of the Whundo deposits. The current mineral resources are 767,000t at 2.41% Zn and 0.43% Cu.
A narrow conductive feature that is broadly coincident with the known copper-bearing portion of the Ayshia mineral deposit has been identified and represents a promising exploration target. Drilling of this target is scheduled to be carried out in the December quarter 2011.
Bertram (100%)
Fixed loop electromagnetic surveying has confirmed the presence of a bedrock conductor. The target is considered to be of moderate priority and is being considered for drill testing later in 2011.
Munni Munni North (100%)
An airborne magnetic and radiometric survey over the Munni Munni North tenement (E47/1758) is due to be flown in the second half of 2011.
Yerwararron Hill (100%)
An airborne magnetic survey will be completed in conjunction with the one at Munni Munni North
to better map bedrock geology and structure, which is mostly obscured by coastal sediments.
Ruth Well (100%)
The Ruth Well project has defined resources of 69,000t at 1.00% Ni and 0.87% Cu, and is considered to be prospective for additional nickel-sulphide mineralisation. A regional induced polarisation (IP) survey is being considered, to delineate any disseminated sulphides that might host nickel-copper mineralisation.
Baynton (100%)
The Baynton project area lies about 15 km south-west of Karratha. Much of the tenement package is obscured by thick alluvial cover, which prevents geological mapping and surface sampling from being completed. The exploration focus is aimed at understanding the bedrock geology in order to generate additional exploration targets.